FUSSY DOG favourite
The pawfect recipe for fussy dogs. Love at first bite or your dollars back
SHOP SALMON PACK
BENEFITS IN EVERY BITE
Bowlful of
Joy
Research shows that if allowed to self-select, dogs will choose a diet high in protein and fat over a high carbohydrate option. That's why all of our meals are more than 50% protein and relatively high in fat. Guaranteed tail wags and joyful side bowl licks!
Snuggly
Soft Coat
A healthy, fresh food diet high in protein supports a strong skin barrier. Long-chain omega-6 fatty acids are also essential for the maintenance of healthy, irritation and dander-free skin and a shiny coat. A layer of warmth and comfort for those cozy couch snuggles.
Unleashed Energy
& Zoomies
Fur parents report seeing an increase in energy after starting their dogs on Heartly. Fresh food, cooked slow and low preserves nutrition and delivers improved bioavailability of nutrients to fuel their day. Ignite their playful spirit with Heartly.
No More Smelly
Surprises
A fresh food diet that's lower in carbohydrates is easier for the gut to digest. With faster digestion, the bacteria in the gut have less time to produce gas! Happy Tummies, Happy Home.
Pawfect
Poops
Supporting gut health with a fresh food diet of high-quality protein, wholefood vegetables and low carbohydrates, aids digestibility - which means increased nutrient absorption, and less wastage. The Secret to Painless Poo Pickups.
SHOP THE TASTER PACK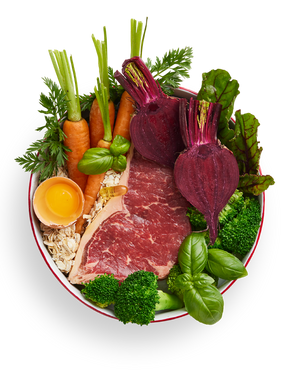 FOOD THAT SAYS "I LOVE YOU"
We're on a mission to enrich the lives of your furmily, for greater longevity & boundless joy, one wholesome & hearty meal at a time
About Heartly